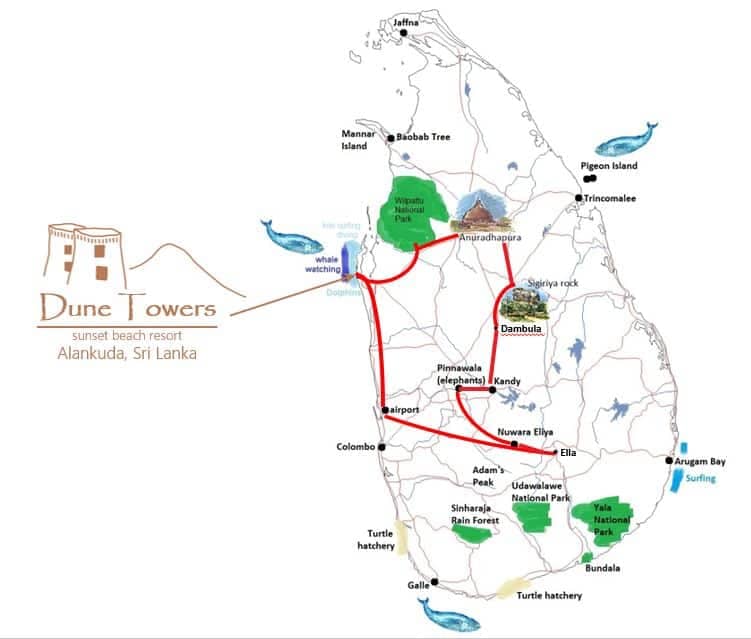 Day 1 Transport to Kalpitiya
After arrival to Colombo airport we bring you to Kalpitiya within 2.5 hours.
Day 2-5 Kalptiya dolphins and mangroves
After short tranfer from the airport you can relax while roaming within our bananas and coconuts or sand dunes. We take you directly into mega pod of dolphins, you visit endless mangroves with nesting birds, you have a snack on sandy islands just centimeters above the lagoon surface. You can go scuba diving on more than 20 sites full of marine life.
Our driver takes you to Wilpattu where you sleep before early morning safari to look for sloth bear, leopards, monkeys, crocodile, deers and various birds.
From safari you continue to ancient city of Anuradhapura to explore biggest buddhist stupas of Sri Lanka. Most people spend just few hours here and continue to Sigiriya.
You climb to top attraction of Sri Lanka. Alternatively, you can visit nearby rock with great view of Sigiriya.
You visit the famous temple of Tooth Relic and central lake. You enjoy magnificient views from elevated viewpoints and buddha statue.
Day 13 Pinnawala Elephant Sanctuary
Pinnawala is home to elephant sanctuary where you can nearly touch elephant babies.
You travel by famous train from Kandy or other transport options. Great mountain location which worth staying 2 days. You can do short walk to Little Adams Peak with Zip line, visit Nine Arch Bridge and swim in Ravana falls. The town itself has very nice atmosphere with many bars and coffees to meet other travellers and relax.
On the last day of your Sri Lanka itinerary we take you to airport. If you flight schedule allows, we visit Colombo or Negombo.